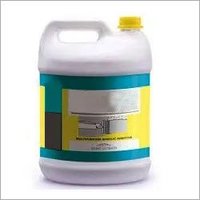 Waterproofing Polymer
Product Description
BOND & BOND –WP-101 / 102/ 103/ 104
A DO-IT YOURSELF MULTI-PURPOSE WATERPROOFING SYSTEM
STYRENE ACRYLIC COPOLYMER SYSTEM FOR WATERPROOFING
Urethane-Epoxy coating is formulated for waterproofing & weatherproofing, resistance to abrasion, acids, alkalis, saline weather, solvents, chemicals, mould, algee and fungus growth. It forms joint less finish coat in heavy duty coating system for metal, wood, concrete and masonry surfaces for exterior and interior use.
WHERE TO USE:-Use On Terrace, wall, in Tank, Swimming pool, Sump, Filter plant, Basement, at Bridge, Buildings, Dam, Canal, Tunnel, Marine structures, Ware hoses, Chemical factories, Petrochemical plant, Oil Tank, Power plants, Work shops, Effluent treatment plants, Sewerage plants, , Godowns, Pipe lines, Terraces, Electric & electronics instruments
METHOD OF USE:-
SURFACE PREPARATION:-
Surface should be Dry, clean, even and free from dust, dirt, paint, rust, Algee, grease, soluble salt, or other contaminations and Damp free. For cleaning use hand or power tools and cleaning chemicals / paint remover and then use rust remover or sand blasting wherever required.
For waterproofing Visible Crack should be open & fill by paste of WP-103(or other wp system) + Filler/ cement
invisible /hair line crack should be fill by CAD-903(Take 1 Kg CAD-903 + 9 Kg water & fill like pond, allow 24 hrs and clean the surface.

Apply first primer thin coat on clean & dry surface
Apply second coat on first coat
Lay down fiber net wherever required for better result.
| | | | | | | |
| --- | --- | --- | --- | --- | --- | --- |
| BOND | WP-101 | WP-102 | WP-103 | WP-103 (M) | WP-104 | LACR-04 |
| TYPE | Acrylic Copolymer | ELASTOMERIC WATERPROOFING POWDER | Styrene acrylic copolymer | Modified Styrene acrylic copolymer | Tar modified Styrene acrylic Copolymer | Acrylic water Based clear |
| Color | Milky White Translucent | White / Grey Powder | Milky White Translucent | Milky White Translucent | Black / Brown | Water clear Lacquered finish |