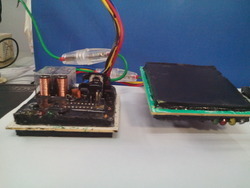 Product Description
ROOM TEMPERATURE CURING FILLED EPOXY CASTING COMPOUD WITH HARDENER – 555, H – 1655 AND H – 160
EC – 606 is specially developed for void free encapsulation and castings. EC – 606 is available in fuid easy to mix consistency ready for immediate application.
Bond & Bond EC – 606 can be used with any of the room temperature curing hardener such as H – 555, H – 1655 and H – 160.
EC – 606 + H – 555 is a fast curing system with a hard cured mass.
EC – 606 + H – 1655 is a medium curing system with a semi rigid cured mass.
EC – 606 + H – 160 is a slower curing system with a low exotherm and flexible cured mass.
·
Good adhesion to most organic and inorganic materials.
·
Good mechanical and electrical properties combined with good chemical and water resistance.
·
Reduced shrinkage and exotherm.
·
Low coefficient of liner expansion.
·
Increased thermal conductivity.
MIXING RATIO AND PROCESSING
MIXING RATIO, PARTS BY WEIGHT
EC – 606 100 100 100
H – 555 5 + 0.5 - -
H – 1655 - 8 + 0.5 -
H – 160 - - 25 + 1