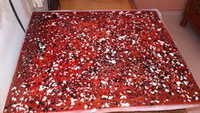 Monolithic Epoxy Flooring
Product Description
Monolithic Epoxy Flooring
Epoxy - Pu Flooring

For Impact, Abrasion,Chemical , Corrosion Resistance, Heavy Duty, Dust Proof, Vibration, Thermal Movement, Anti Fungal, Anti Moss,Anti Bacterial In Pharma, Food, Electric, Electronics, , Auto, Chemical, Textile, Surgical,Instruments, Instruments, Dairy, Engineering, Sugar, Paper, Pickling, Optical, Metal, Industries, Operation Theater,Hospitals, Godowns, Garages, Laboratories, Walkways , Shops & Malls,Railways, Paint Shops, Battery Rooms, Computer Rooms, Kitchens, Exhibition Halls, Canteens, Electroplating Units, Etc., And For Dam , Canals, Railway Platform.
Method Of Use:-
Surface Preparation:-
Surface Should Be Dry, Clean, Even And Free From Dust, Dirt, Paint, Rust, Algee, Grease, Soluble Salt, Or Other Contamination And Damp Free. For Cleaning Use Hand Or Power Tools And Cleaning Chemicals / Paint Remover And Then Use Rust Remover Or Sand Blasting Wherever Required.
Apply Putty If Required
Apply First Primer Thin Coat On Clean & Dry Surface
Apply Second & Third Coat On First Coat.

Other Information

Pay Mode Terms: L/C (Letter Of Credit)
Port Of Dispatch: Nhava Sheva Pipavav
Production Capacity: 10000
Delivery Time: 15 Days
Packaging Details: 20 Kg Bucket