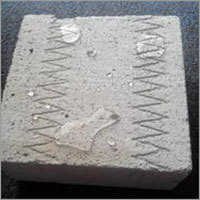 Hydrophobic Coating
Product Description
We have maintained immense goodwill in this domain, by providing excellent quality Hydrophobic Coating. This coating is processed using excellent quality calcium carbonate, manganese and zinc oxide polystyrene with the aid of progressive methodology. Suitable to be applied on concretes, glasses, cars and bus bodies, this coating aids in repelling water. The offered Hydrophobic Coating is available in various packaging options at cost effective rates.

Key Points:

Durable water repellent
Free from impurities

Ultra-dry surface
Protects from moisture
Hydrophobic Coating:-

Bond & Bond MB-100 (Transparent Water repellent system)
Water leakages is headache. Due to leakage the building and its structure are damaged and became week due to corrosion also. Many systems are available in market but our practical experience nothing it may 100% successful and economic
Conventional Waterproofing System and Present problems:
Available W.P. system are seal the pores, but stop breathing.
may be black color and heavy weight
May be UV absorber and heat increasing and passing through ceiling.
Many cases we cant use terrace, due to thin coating and black color.
Not fungus and moss preventive.
Application is not easy.
Product does not perform up to the completion of warranty period.
Expensive, time consuming & laborious Job.
Paint failures, Deterioration on the wall (Black spots / patches) because of formation of moss, fungus and algee.
MB-100 Water Reppallent Systems:

Stop Leakage & create breathable hydrophobic zone.
Weightless, colorless, Easy to apply, UV light resistance,
No moss, fungus, algee accumulations., Ready to use.
We can use terrace due to deep penetrations.
Stop leakage cracks up to 1MM width in wall ( vertical surface).
Highly cost effective, will not allow water, dust, smoke, fungi,To meet diverse requirements of our clients in the best