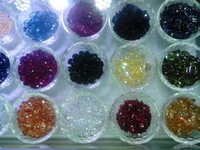 Epoxy Resin Jewellery Bead
Product Description
We are a unique entity in the industry, actively committed towards offering the optimum quality range of Epoxy Resin Jewellery Bead. Under the observation of our adroit, this resin is processed using top grade chemical compounds with the aid of ultra modern methodology. The provided resign is gives glossy surfaces for longer life and eye catching look of jewellery bead. In addition to this, the offered Epoxy Resin Jewellery Bead can be purchased from us at rock bottom prices by our valued clients.
Key Points:
Resistance to dust
Long lasting finish
Cost effective
Easy to use
BOND & BOND
HARD & GLOSSY LAMINATING POLYMERS
ACRYLIC- POLYURETHANE EPOXY based Laminating polymer adduct of gloss and adhesion improver are suitable for wood and ceramic laminating and specially formulated for Jewellery coating and for colored MEENA application.
WHERE TO USE:-For Jewelry Mina, Key chain, wood, concrete, ceramics, glass, ornamental metal, Appliances, Machineries, wall, Electric & electronics instruments, Paver block and Tiles.
BOND

LP-01

LP-01 (C)

LP-02

LP-03

LP-04

LP-05

LP-06

TYPE

ACRYLIC- POLYURETHANE EPOXY

ACRYLIC- POLYURETHANE EPOXY

ACRYLIC- POLYURETHANE EPOXY

ACRYLIC- POLYURETHANE EPOXY

ACRYLIC- POLYURETHANE EPOXY

ACRYLIC- POLYURETHANE EPOXY

ACRYLIC- POLYURETHANE EPOXY

Color

Water clear

All transparent color d, Green, Yellow, Orange, Blue,Violet, Brown, Pink, florocentRe

Water clear

Water clear

Water clear

Water clear

Ultra Water clear

FINISH

Glossy

Glossy

Glossy

Glossy

Glossy

Glossy

High Glossy

SOLID % BY VOLUME

38+-2%

38 +-2%

98+-2%

98+-2%

98+-2%

98+-2%

98+-2%

FLASH POINT

30 oC

30 oC

30 oC

30 oC

30 oC

30 oC

30 oC

MIXING

Single pack

Single pack

2:1 Two pack

3:1