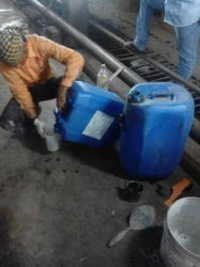 Dry Mix Waterproofing Powder
Product Description
Dry Mix Waterproofing Powder
SINGLE COMPONENET ELASTOMERIC WATERPROOFING POWDER
WP-102 is a polymer modified waterproofing powder are unique formulations suitable for waterproofing coating
applications. It gives highly flexible waterproofing coatings and water vapor permeability.
PROPERTIES:-
1. Easy to Apply and self curing systems. 2. Prevent Efflorescence 3. Good adhesion to the plaster, concrete and tiles surfaces. 4. Good water vapor permeability (Gives breathability) 5. Having crack bridging properties. 6. Excellent abrasion and weather resistance 7. Resist hydrostatic pressure. 8. Environment friendly 9. Negligible shrinkage
WHERE TO USE;-
For waterproofing at Water tank, Terrace, Sump, Swimming pool, Wall (Internal & External) , Bathrooms, Basements, Garden walls, Apply by brush.
SURFACEPREPARATION: Surface must be clean, dry, sound, firm and free from oil, grease and other contaminations which will impair adhesion.
MIXING RATIO

WP-102

POWDER

WATER

CEMENT (White/ Grey)

SAND

FOR COATING/ PRIMING

1 PARTS

1 PARTS

--

FOR PUTTY

1 PARTS

½ PARTS

1-3 PARTS

--

FOR PLASTERING MORTAR

3-4 KG.

REQUIRED

1 BAG (50 KG)

REQUIRED

FOR SCREEDING

1 PARTS

7 PARTS

1 PARTS

3 PARTS

LAYING TILES

1PARTS

3 PARTS

1PARTS

REQUIRED